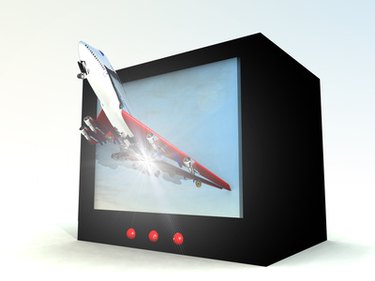 Before the integration of digital technology, televisions relied on cathode-ray tubes to create the picture. Rear-projection models used three separate tubes for the red, blue and green portions of the picture. If the tubes fall out of alignment because of bumps, vibrations or other causes, the color will be off-key and the video may have a blurry or ghosting effect. You can use convergence to realign the picture tubes, and in Hitachi rear-projection televisions, the adjustment is made through Magic Focus.
Step 1
Turn on your Hitachi rear-projection television; let it run for at least 20 minutes, and press the "Magic Focus" button on the front panel of the television. Automatic convergence starts and takes approximately 20 to 90 seconds, depending on the particular model. Do not press the "Magic Focus" or any other buttons in that time, as any button presses could cancel the changes.
Step 2
Press "Menu" on the remote control; press the arrow keys to highlight "Video" and press "Select" to bring up the "Video" menu on the on-screen display. Use the arrow keys to highlight "Magic Focus" and press "Select" again. You can use manual adjustment mode if the automatic convergence did not correct the problem with the picture, if your Hitachi model offers this option.
Step 3
Press the "Manual" adjustment mode in the "Magic Focus" menu and press "Start." The adjustment point grid will be displayed on the screen. Use the arrow keys to move the white cursor to a point on the grid to be adjusted.
Step 4
Pres the "Select" button repeatedly to alternate the color of the adjustment point between white, red and blue. Use the arrow keys to match the red and blue colors to green. When the colors are aligned, they appear as white. Press the arrow keys to move the cursor to a different point and repeat as needed.
Step 5
Press "Exit" when finished to access the menu mode, and press "1" to save the adjusted settings and return to the main picture. Press "2" to cancel the adjustments, "3" to restore the factory convergence settings or "4" to return to the manual adjustment grid.