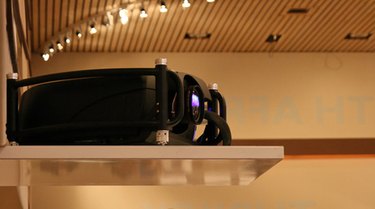 Sanyo makes dozens of models of multimedia projectors designed for use in different settings, but there are a handful of common problems that come up, mostly involving issues with turning the projector on and image quality. Although the specific maintenance procedures for projectors will differ by model, most of the problems have common solutions. If you're unsure how to perform any of these steps, consult the owner's manual.
No Power
Step 1
Check that the projector's power cables are securely connected, along with the power bar or surge protector it may be plugged into.
Step 2
Check whether the automatic slide shutter is stuck half-open. The projector's power light will flash orange, and the projector won't turn on if this has happened.
Step 3
Make sure the projector is installed on a flat surface.
Step 4
Wait 90 seconds after turning the projector off before attempting to turn it on again.
Step 5
Don't use your projector in temperatures higher than 95 degrees.
Image Problems
Step 1
Check the connections of the video cables connecting the the projector to your DVD player, computer, game console or other device. Unplug, then firmly reconnect the cables.
Step 2
Make sure the projector is set to the right video input.
Step 3
Remove the cap before use. Some Sanyo caps are semitransparent and allow a blurry image to be projected.
Step 4
Release the lens shift lock if your lens shift controls are not working.
Step 5
Change the image focus to try to fix a blurry image. The focus controls one of the rings around the lens array; the other is the zoom.
Step 6
Increase the contrast or brightness options if the picture is unclear or not bright enough.
Step 7
Change the projector's ceiling/rear orientation options if your picture is vertically or horizontally reversed.
Step 8
Replace the projector lamp if it has more than 2,500 hours of use logged.