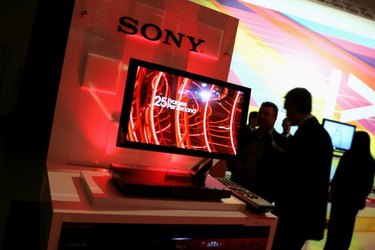 Sony Bravia TV remote controls have a "Scene" button that controls the television's scene selection feature. The scene selection options are a group of preset picture and sound settings that enhances the type of program you are viewing. For example, if you are watching a hockey game, the "Sports" scene selection changes the Bravia television's settings so that you can better see and hear the action on the ice.
Step 1
Press the "Power" button on the remote control to turn on the Sony Bravia.
Step 2
Push the "Scene" button to open the list of scene options for the television. The options are "Cinema," for watching movies; "Sports," for watching sports programming; "Music," for listening to music channels; "Game," for playing video games; "Graphics;" for long-term television viewing; "General;" for basic settings that work well for multiple program types; "Photo;" to adjust the settings so that they look similar to a photograph; and "Auto," which adjusts the settings according to your input source.
Step 3
Press the up or down arrow buttons to highlight the scene mode you want to use and then press the center select button, which is located in the middle of the arrow buttons, to select that option.