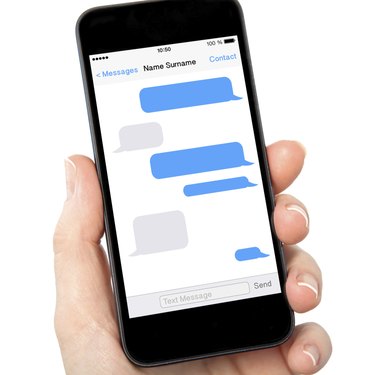 Backing up your iPhone periodically through iTunes or iCloud is necessary if you wish to recover lost text messages. These backup files contain a comprehensive archive of your iPhone's data, including SMS and iCloud messages. There are a variety of ways to recover text messages from iPhone backups, including re-authorizing iMessage accounts, restoring your iPhone to a previous backup through iTunes or iCloud, or by using specialty third-party apps to extract text messages from iTunes backups.
Re-Authorize Your IMessage Account
When iPhone users text message other Apple device users, these correspondences are typically sent through the iMessage system instead of your cellular carrier. IMessages are stored as encrypted files through the iCloud service and pushed to all of your Apple devices. If your iPhone is not properly linked to your iMessage account, then you might not be able to view all of your iMessages. You can re-authorize your iMessage account by opening the "Settings" menu, selecting "Messages," and switching the iMessage feature "On." Make sure that you can receive iMessages to your phone by tapping "Send & Receive" and checking off your phone number
Restore from ICloud Backup
If you have enabled iCloud backup on your iPhone, then you can restore your device to a previous backup. Keep in mind that this process completely erases all of your iPhone data and restores data from a previous point in time. Make sure that you have a recent iPhone backup to choose from by opening the Settings menu, choosing "iCloud," and selecting "Storage & Backup." Scroll to the bottom of the screen and read the "Last Backup" timestamp. To restore from this backup, select "General" in the Settings menu, select "Reset," then chose "Erase All Content and Settings." Once your iPhone restarts, select "Set up your device," and choose "Restore from a Backup." Sign into your iCloud account and choose the backup file with the desired timestamp.
Restore from ITunes Backup
If you periodically back up your iPhone to your computer, you can also restore all of your iPhone data, including text messages, from an iTunes backup. Plug your iPhone into your computer with the USB cable and launch the iTunes software. Click on the "File" menu, hover over "Devices," and select "Restore from Backup." Choose the backup with the desired timestamp and click "Restore."
Recover via Third-Party Utilities
Since iTunes creates backup files of all your iPhone data in SQLite databases that are protected by an UID-derived key, so you cannot simply open and read text message files unless you first process the backup with a third-party software, such as a SQLite Application or an SMS extractor. A number of solutions can extract text message archives from your iTunes backup files. PhoneRescue saves text messages to your computer in HTML format and can be purchased from iMobie for $49.99. IExplorer by Macroplant costs $34.99 and allows you to recover text message backups as PDFs or TXT files. Finally, DigiDNA's DiskAid tool allows you to extract text messages from iTunes backups on a computer and save them as TXT or PDF files for $29.90. (Links in Resources.)