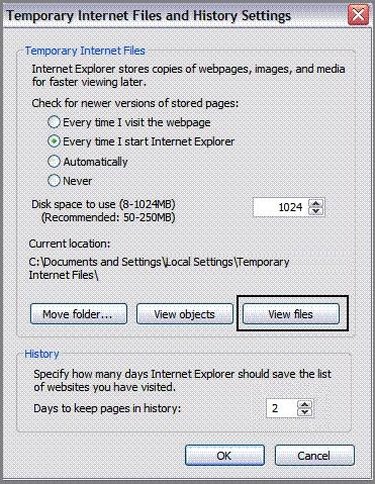 Temporary Internet files are not all bad; however, one of the most common phrases you're likely to hear is, "Be sure to delete your browsing history." The benefit of being able to retrieve a once-removed Internet file is that you can determine exactly when you visited a particular website. This includes identifying the exact day and time--to the minute. Another advantage is that you can avoid taking extra steps to save the web page for reference and instead access your deleted browsing history, thereby saving disk space.
Step 1
Select "Tools" from the browser toolbar and then choose "Internet Options."
Step 2
Click "Settings" from the General tab.
Step 3
Go to the toolbar menu and then select "View Files."
Step 4
Locate the file under the desired field heading, either "Name," "Internet Address," "Type," "Size," "Expires," "Last Modified," "Last Accessed" or "Last Checked." (Note: You can click on the arrow within the "Last Accessed" field header to sort the list from either the earliest or most recent files accessed.)
Step 5
Right-click on the file and then select "Open in New Window."
Tip
To quickly find the file you are looking for, look in the list under the "Last Accessed" field header after retrieving the Temporary Internet File folder. Keep in mind that the the saved files are typically broken down into photos and JavaScripts. Therefore, you may have to scroll down a group of files that were generated from one visit to get a specific file you are looking for.
Warning
While you can access photos from your deleted browsing history quickly, when attempting to retrieve JavaScripts, you may be prompted by a security warning before being able to open the file. Take note of the website address before you open it. Use your discretion. If you cannot locate a deleted file, it may be long gone. Change the holding file duration for the "Days to keep pages in history." To do this, follow Steps 1 and 2. Next, input a number in the list box next the setting.