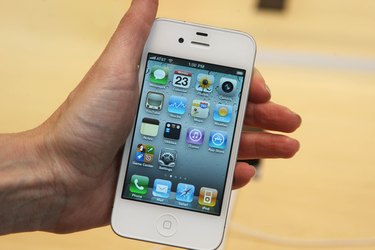 Apple designed a unique visual voicemail for their iPhones, allowing users to scroll through missed calls with a visual interface instead of an audio voicemail menu. iPhones require using touchscreen methods of clicking on individual messages, rather than all voicemail messages playing from start to finish.
Step 1
Turn on the iPhone and access the home screen. A circled red number indicates that you have a missed call.
Step 2
Tap on the "Phone" icon located on the lower left hand side of the dock. Tap on the "Voicemail" button on the bottom of the screen. Tap anywhere on the "Voicemail" screen while holding down the number "1" to be directed to voicemail messages.
Step 3
Listen to voicemail messages by tapping on the name or phone number of the missed call, and observe as it plays in the lower middle bar of the screen. Options to "Call Back" or "Delete" are presented below the playing message, accessed by tapping on the icon of choice.
Step 4
Exit the visual voicemail when ready, by tapping on the "Home" button on the iPhone (the circular button with a white square shape on the phone's lower front shell).