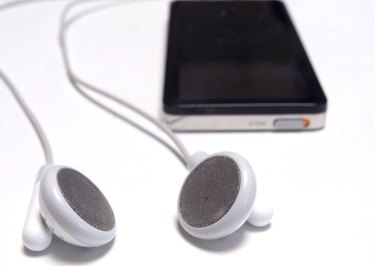 Sometimes the iPhone's volume can be stuck on low or high for no apparent reason. At other times, even if the volume is turned on full volume, the sound is coming out lower than you know the iPhone is capable of. When either of these happens, you can easily reset the iPhone's volume by turning the phone off and then back on. When the phone reboots, the iPhone will reset to its normal volume settings. The whole process takes less than three minutes.
Step 1
Press and hold the sleep button at the top of the iPhone for four seconds.
Step 2
Slide the "Slide to Power Off" bar to turn off the iPhone. The screen should go black or show a waiting sign, then go black.
Step 3
Press and hold the sleep button to turn the phone on again. An Apple logo will display while the phone restarts.
Step 4
Test your phone's volume by playing a track of your choice.