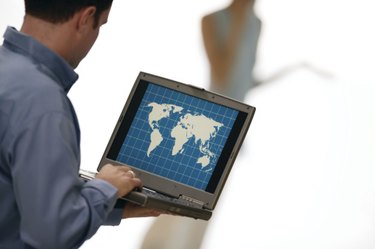 Navionics makes a series of nautical maps used in marine-based Global Positioning System units and chart plotters. You can download the Navionics maps from the company's website and once the maps are on a home computer, you can "rip" or copy them to a memory card for use in your electronic marine devices.
Step 1
Direct your Internet browser to the Navionics website. Click the "Web Store" selection on the menu bar. Click the "Install ADOBE Air" icon. Make sure your browser is not blocking cookies or the download won't work.
Step 2
Accept the terms of agreement and installation for the Adobe Air program. Install the program to your hard drive. Download and install the Navionics Chart installer on your hard drive.
Step 3
Select and purchase the Navionics maps you need off the Navionics website.
Step 4
Plug the secure digital, or SD, card reader into a USB port on your computer and insert an SD card into the reader. Highlight the Navionics maps to be ripped and transferred. Drag and drop them to the SD card icon on the desktop. Wait for the data transfer to occur. Remove the SD card. It now has the ripped Navionics maps stored within the memory on the card.
Step 5
Insert the SD card into your GPS or marine electronic chart plotter and open the Navionics maps.