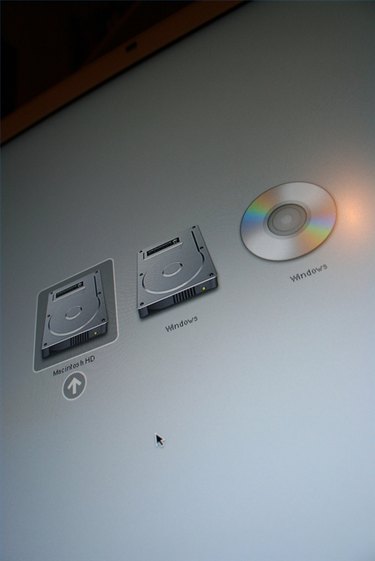 EXE files are Windows executable files, the core file type of most Windows programs. Unfortunately, Macs can't run them right out of the box, which can be a problem for programs, such as games and business applications, that have no Mac version. But, if you have a Mac with an Intel-based processor with OS X Leopard or later, Apple has graciously provided you with a little utility called Boot Camp to do just that.
Boot Camp will help you set up a separate section of your hard drive that will allow you to install Windows on your computer as if your Mac was a PC. Since you will be installing a real copy of Windows directly on to your Mac hardware, anything that can run in Windows will run on your Mac.
Note: The screen shots in this tutorial show an installation of Windows XP. Installation of Windows Vista or Windows 7 will look different, but the steps are basically the same.
Step 1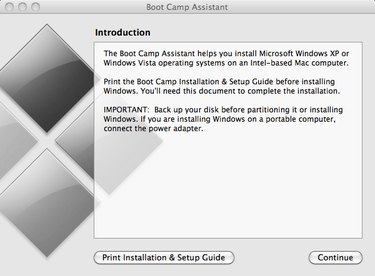 Open your Boot Camp Assistant utility. It should be located under ~/Applications/Utilities/Boot Camp Assistant. Double click the icon to start the program.
Step 2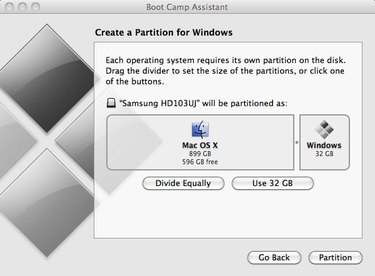 Partition your hard drive. Select how big you want your installation of Windows to be. Windows installs are fairly large, so make sure you allocate enough space for Windows to fit. Windows XP takes up about 1.5GB, Vista about 20 to 40GB, and Windows 7 about 20GB.
The Boot Camp Assistant will then create a special partition of your hard drive just for Windows.
Step 3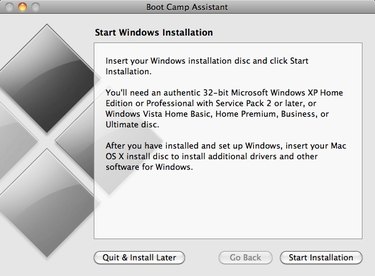 Insert your Windows disc and click "Start Installation." Your computer will restart and begin the Windows installation process.
Step 4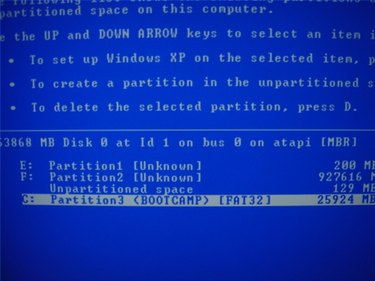 Select your new Boot Camp partition. Once your computer restarts, it will begin loading the Windows installer. You will be asked on which partition you want to install Windows. Make absolutely sure you select the partition you created with Boot Camp. It should be the size you specified in Step 2, and the Boot Camp Assistant will have named it "BOOTCAMP."
Caution: Don't select your regular Mac partition. Installing Windows there will over-write or erase the data that's already on your Mac.
Step 5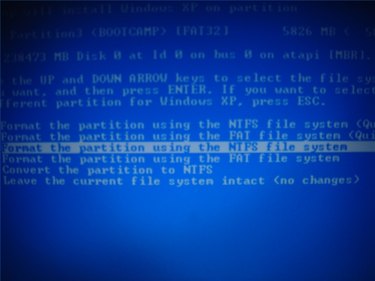 Select format type. If you're installing Windows XP, the installer will ask you how you want to format your Windows partition. You have two choices: FAT32 and NTFS. If you are installing Vista or later, your only choice is NTFS.
FAT32 is an older way of organizing files, and will not work on partitions larger than 32GB but it will also let the Mac side of your computer save files to the Windows side of your computer. NTFS is more advanced, and supports larger partition sizes, but your Mac will only be able to read files from your Windows partition, not write them. If your Windows partition size is larger than 32GB, select NTFS. If not, select FAT32.
Hit enter or click "Okay," depending on what version of Windows you're installing, and the format and install process will begin. Make yourself a sandwich. This may take a while, depending on how big the partition is.
Step 6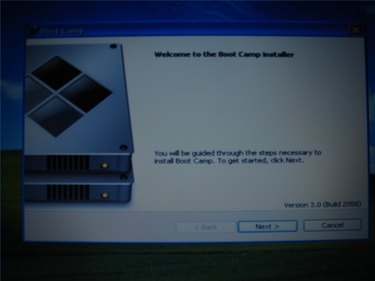 Install Apple drivers and utilities. Once the Windows install process is complete, your computer will restart and boot into Windows. It looks pretty raw, since it's running with all the default settings. Don't worry, you'll take care of that now. Apple has provided software to tell Windows how to run all the Mac hardware. Eject your Windows disc and insert your Mac OS X 10.5 Leopard or later disc.
If you're running XP, the Apple install program should begin automatically. If you're running Vista or Windows 7, select and run "setup.exe" when prompted.
Agree to the license agreement and make sure you check the "Install Apple Software Update for Windows" option. Sit back and watch the Apple installer do its thing. Ignore any weird messages or popups. Once the installer is complete, click "yes" to restart the system once more.
You're done! You can now install and run any Windows program on your Mac by booting into Windows.
Now whenever your Mac restarts, you can hold down the Option key to select which operating system to boot into---OS X or Windows.
Things You'll Need
Intel-based Apple computer with OS X 10.5 or later

OS X 10.5 or later disc

Windows XP, Vista, or Windows 7 disc
Tip
Apple has provided a utility called "Start Up Disk" to select which operating system starts up your computer. On the OS X side it's located in the System Preferences, and on Windows it's located in the Control Panel.
If you ever want to delete your Windows partition, run the Boot Camp Assistant again and it will give you the option to return your hard drive to its original configuration. Just be aware that you will be deleting all data on that partition.
Warning
Always remember to back up any valuable data or other important items from your hard drive in case something goes wrong.
Make sure you don't select your OS X partition when installing Windows, or else you risk losing all of your data.