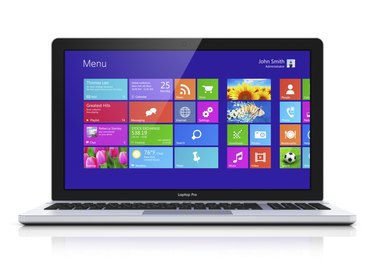 Microsoft's Windows 8 operating system includes many features designed to help protect you from malicious software. Unfortunately, some of these features may also prevent you from completing tasks you wish to complete. Windows automatically prevents the installation of software without a valid digital signature, which can make it impossible to install your own programs or open-source/alpha versions of software that haven't been signed. You can control this setting from your Windows "Internet Options" screen.
From Internet Explorer
Step 1
Open Microsoft Internet Explorer by pressing the "Windows" key, typing "Internet" into the search box, and clicking "Internet Explorer."
Step 2
Click the gear icon in the upper right-hand corner of the Internet Explorer window and select "Internet Options."
Step 3
Select the "Advanced" tab. Scroll down to the Security section and check the box next to "Allow software to run or install even if the signature is invalid."
Step 4
Click "OK" to save your changes. You can now install and run programs without a valid signature.
From Control Panel
Step 1
Swipe your mouse to the lower right-hand corner of your screen. Click the "Settings" charm and select "Control Panel."
Step 2
Click "Network and Internet," followed by "Internet Options." Select the "Advanced" tab.
Step 3
Scroll down to "Security" and locate "Allow software to run or install even if the signature is invalid." Click this check box.
Step 4
Click "OK" to apply your changes.
Tip
After running the specific application you've attempted to run, return to Internet Options and re-enable the block on programs without a signature. This will ensure that you don't accidentally run an unsafe program in the future.
While the Internet Options are only accessible through Internet Explorer or the Windows Control Panel, the changes made to the "valid signature" option affect the behavior of programs downloaded through any Web browser.
Warning
Applications without valid digital signatures could be harmful to your computer. Do not run any applications without signatures unless you know where the application originated.