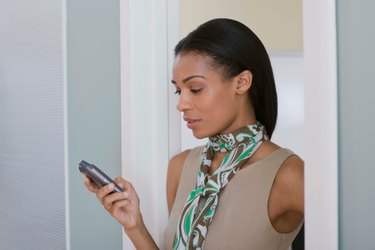 Saving important text messages from your iPhone is simple -- it is an automatic process that works every time you sync your phone via iTunes. Unfortunately, the information goes into a folder that is not readily accessible, and texts are in an unreadable format. To extract the text messages from your computer, you need a third-party application or backup tool. Free backup and extraction systems include iPhone SMS, SQLite Data Applications and iTextUploader. With these tools, you can extract texts from your iPhone and save them in a readable format.
iPhone SMS
Step 1
Navigate to the iPhone SMS website to save text messages to your computer.
Step 2
Find the file "3d0d7e5fb2ce288813306e4d4636395e047a3d28" on your computer that contains your SMS texts. It should either have the extension .mdbackup or .mddata. Check step two for specific directory paths.
Step 3
Click "Choose File" under step three and then select your SMS text file. Select an archive format by clicking a bubble in front of Microsoft Excel, HTML or PDF, then click the gray "Submit" button to download the file to your computer.
SQLite Data Management Application
Step 1
Locate the iPhone SMS text folder on your computer. For Mac users, look in the "LIbrary" folder, then double-click "Application Support," "Mobile Sync" and "Backup." For PC users, look for the same type of path under "Users," or "Documents and Settings" and then "Application Data."
Step 2
Open the file with a long hexadecimal name. Look inside for the file "3d0d7e5fb2ce288813306e4d4636395e047a3d28," with an .mddata or .mdbackup extension. Copy this file to your desktop.
Step 3
Navigate to a freeware site and download an SQLite app, such as MesaSQLite for Mac OS X or phpliteadmin for PC. Launch the application and then open the SMS text file. It should display all your texts in database format.
ITextUploader
Step 1
Navigate to youarchive.it. Click "WebApp" at the top of the page, then click "Sign Up Now" and fill out the registration information. Check the "I Agree With The Terms of Service," box and click the "Submit" button to sign up for iBlissLIVE.
Step 2
Navigate to The Big Boss website to download iTextUploader. Click the blue link named "Deb" next to "Download." Double-click on the file to install, or right-click and select "Open."
Step 3
Launch iTextUploader and click the "Upload" page at the bottom of the screen. Click the "Upload" button to automatically upload all your SMS text messages. Click the "Browse" page to search through them.