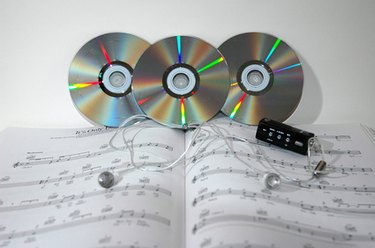 Many people like to listen to music on their computers. You can listen to music on your computer in many ways, including just playing a CD in the CD drive. You can, however, not only listen to music on your computer but create a whole music library on your computer where you can listen to any music you have the rights to in just a click or two. There are two basic ways to save music on your computer, to rip it from a CD or to download it.
Download
Step 1
Sign up with a music download service. Itunes is one of the most well-known services that let you buy music on a per song or per album basis for a single price. Even WalMart has an online music download service. You can go to Apple's website and download the itunes program. Install the program and run it. Itunes and similar programs will have a "store" button or similar link to click on to find music.
Step 2
Select the songs you want and choose the purchase or buy button. You will have to enter a credit card number and related information.
Step 3
Choose which folder you want to download your music to by going to the Options menu and choosing a folder. There may be other options you can choose as well.
Rip
Step 1
Insert a music CD that you own into the CD player on your computer. You can use any optical drive that plays CDs.
Step 2
Use a ripping program to copy the files from the CD. Windows Media player has a built-in ripping program. Open Windows Media player, click on the "Rip" tab and then insert the CD. Windows Media Player will display a menu listing the songs on the CD. Select the songs you want to rip. Windows Media player will list the name of each song by looking at an online database but some CDs might not be in the database and you will only see a track number and not a song name.
Step 3
Select the location and music file type. Right-click at the top of Windows Media Player and choose the "Tools" menu and then "Options." Go to the "Rip Music" tab and choose a directory to save the music to. When copying music from a CD, you can choose a file type, such as MP3, and the quality level of the ripped file. Choose the format type and then move the slider at the bottom to choose the quality level.