MoneyGram does not accept PayPal as a preferred payment option, but there is a simple workaround, as long as you have a PayPal debit card. You can apply and typically receive a debit card, linked to your PayPal account, within 4-6 business days. For those who already have a debit card from PayPal, you will enter the MasterCard number and card details for the payment method during the MoneyGram transfer process.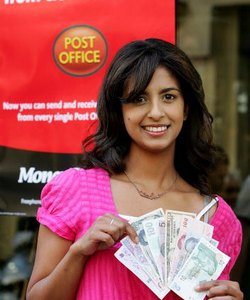 Step
Open a Web browser, and navigate to the MoneyGram website at moneygram.com.
Step
Select the country, receiving method and dollar amount. Click the "Get Started" button to continue.
Step
Click the "Select" button for "Same Day" delivery, as this is the only method you can use for credit or debit cards. You will also see the transfer fee listed for the country and dollar amount you chose.
Step
Enter the "Username" and "Password" if you are returning customer, otherwise type your email address, and click the "Go" button.
Step
Fill in all the requested information on the next page. New customers will have to enter personal information, such as name, address, phone number and last 4-digits on their social security number. Ensure you have typed the receiver's name and information correctly, so there are no complications when picking up the money.
Step
Select "MasterCard" for the "Card Type," located under the "Payment method" section. Type the "Card Number," select the "Expiration Date," and type the 3-digit "CVV Number" located on the back of the card. Click the "Next" button to continue.
Step
Review and complete the transaction. MoneyGram will also ask you to set-up security information for the money transfer.