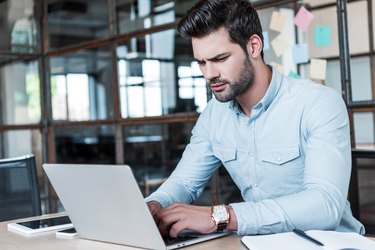 You can set the default language to English or any other language in Google Chrome through its settings menu. You can also choose whether to have the browser automatically translate text in other languages. Set the language settings for your Google account separately through the Google language settings page so that you can use the search engine and other Google tools in a language you read and speak.
Change the Chrome Language
You can change the default language on your Chrome browser through the Chrome language settings in the "Settings" menu if you are using Microsoft Windows or a Chromebook computer.
If you are using Linux or macOS, you can specify which languages you speak so that Google knows when to offer to translate pages from languages you don't understand, but Chrome reads in your default language from your operating system settings.
To specify languages, click the menu icon represented by three dots, then click "Settings." Scroll to the bottom of the "Settings" menu and click "Advanced." Scroll down to "Languages" and click "Language."
Within the "Language" submenu, use the "Add languages" button to add languages you want Chrome to use. If you're on Windows or a Chromebook, click the "More" button next to a language and then click "Display Google Chrome in this language" or "Display Chrome OS in this language" to make it the default.
Automated Translation
You can set Google Chrome to automatically offer to translate text in languages you don't speak. It uses automated translation tools, not human translators, so it's not always perfect, but it can be useful.
To do this, go to the "Settings" menu and click "Advanced." Scroll down to "Languages" and click "Language." Check the box or turn on the slider next to "Offer to translate pages that aren't in a language you read."
Change Google Language
Your language settings in your Google account are separate from your Chrome language settings. If you want always to use Google in English or some other language, configure it in your Google account through the Google language settings page.
Go to myaccount.google.com and sign in when prompted to do so. Click "Language & Input Tools" in the "Account Preferences" menu. Click "Language." If the language you want to use with Google isn't shown, click the "Edit" button, which looks like a pencil. Choose your language or languages from the drop-down menu.
If you speak a language that isn't available for all Google products and services, you may be asked to choose a second language as a backup.
You may need to restart your browser or clear your cookies for the change to take effect.