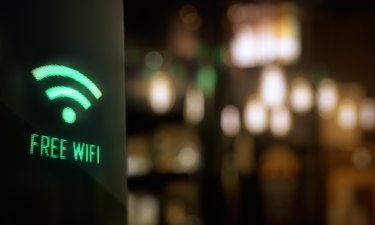 If your Wi-Fi connection isn't quite as speedy as the 100 megabytes per second promised by your provider, the culprit can be anything from physical interference to congested data lanes. However, if the internet traffic lanes are clear and your shiny new router is up to snuff, but your devices are just too far away from that downstairs signal source, Belkin offers a solution.
The company's Wi-Fi Range Extender, which retails for about $40 as of 2018, aims to ease Wi-Fi dead spots and expand your space's wireless connection by up to 5,000 feet. This sleek little gadget just plugs into a power outlet, hops onto your signal and boosts the source from its location, acting as a sort of Wi-Fi waypoint. Once it's set up, the Wi-Fi Range Extender is a pretty hands-off device. Let's just make sure we get that initial setup out of the way first.
Wireless Setup
Belkin offers a mercifully painless way to set up your Wi-Fi Range Extender (formally known as the N300 Dual-Band Wi-Fi Range Extender). Whether you're hooking it up to a wireless or wired internet signal, the installation process directs you to a website that literally walks you through the process step-by-step.
Before you get there, you'll have to plug the Range Extender into a power outlet. Choose one that's close to the "edge" of your Wi-Fi network's coverage (the spot where your service starts to get a little shaky) for the best results. Once you're plugged in, hop on any device connected to your Wi-Fi network. Search for the network called "Belkin.setup" and connect to it. Before you start checking Instagram or swiping on Tinder, though, open your device's browser, head over to "http://Belkin.range" and follow the step-by-step instructions there.
Wired Setup
To go hardwired with your Belkin Wi-Fi Range Extender, the setup process is a little different. If you want to go wired, you'll need a computer that stays near the power outlet where your Range Extender will live.
First, connect the Range Extender to the computer with an Ethernet cable (the Extender has an Ethernet port, but it does not include a cable, so you'll have to cop one separately). Plug the N300 into the power source, then turn the connected computer's Wi-Fi off. Open the computer's browser, visit http://belkin.range and follow the instructions onscreen. Once you're following Belkin's online instructions and the Extender setup is complete, turn your Wi-Fi back on – otherwise, you'll have an even shorter range than before.
Belkin Range Extender Reset
Like virtually all pieces of tech, the Belkin Wi-Fi Range Extender may act up from time to time. When that happens, the most reliable way to get it back on track is to perform a device reset. To perform a Belkin Range Extender reset, simply press the small round "reset" button on the bottom of the device. This doesn't affect the settings you inputted during the setup process, so don't worry about having to do the whole setup over again.
When the basics fail, head over to Belkin's official support site to download the latest firmware (updated as recently as June, 2018) for your Extender. From here, you can also access 24/7 live support via chat, or you can opt to call the company's networking product support team at 800-223-5546 during the hours of 5 a.m. to 9 p.m., local time, Monday through Sunday.