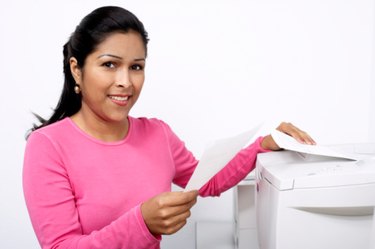 Most formal letters are formatted in what is called a "block" style. When you look at the document as a whole, the text should form blocks on the page. Different blocks include a heading, address, greeting, body and closing with a signature line. Usually a block-style letter lines up all of the text on the left. Modifications may include shifting one of the blocks, such as the heading, to the right, or indenting new paragraphs in the body. The easiest way to design such a letter in Microsoft Word is to use a template.
Step 1
Browse Microsoft Word templates for block letters. Open the program, click the "File" tab and select "New." You will see options for many types of documents. Click "Letters" and look for one that suits your purpose. Alternatively, visit office.Microsoft.com/en-us/templates/ and do a word search for the type of letter you would like to write.
Step 2
Select the template you want and download it, if necessary. If dowloading from Microsoft.com, you may have to save it somewhere on your hard drive. The template you download must be compatible with your version of Word.
Step 3
Edit the letter so that it has the correct information in it such as your name, the addressee's name and other items specific to the letter. Depending on what type of template you use, you may also need to compose part or most of the letter yourself.