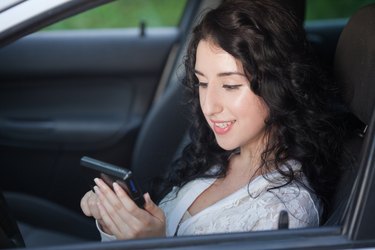 A GPS device, such as a Garmin Nuvi, is more dependable than a smartphone navigation app, since a dedicated GPS device maintains a more stable satellite connection than a smartphone's cell tower connection. Your smartphone navigation app locks up when it loses its connection, but a Garmin's navigation guidance keeps going. Set up your Garmin to reliably take you wherever you want to go.
Register Your Garmin
Registering your Garmin using Garmin Express or myDashboard enables you to download updated maps and software and customize your vehicle logo and navigation voices. The Nuvi 52LM and 2597LMT use Garmin Express, but the Nuvi 50LM uses myDashboard. To start registering any model, plug the small end of the included USB cable into the back of your Garmin and plug the other end into a USB port on your computer. Depending on your model, navigate to either the Garmin Express site or the myDashboard site (see Resources) to register your device, update your maps and software and download vehicles and voices.
Save Locations
Set a Home location by tapping "Where To?" and "Go Home" on the Nuvi 50LM and 52LM; on the Nuvi 2597LMT, tap "Where To?," the menu icon that looks like three horizontal lines and "Set Home Location." You can choose to type a location, use your current location or select a recently found location. The location is saved as your Home location.
To save other locations you frequently visit, first search for a location using categories, by address or by browsing the map and then select the location from the results. Tap "Save" and "OK" on the Nuvi 50LM and 52LM; on the Nuvi 2597LMT, tap the Information icon, the menu icon and "Save." For any of these Nuvi models, you can save a current location by tapping your vehicle icon and "Save Location." Type a name for the location and tap "Done" and "OK."
Set Navigation Preferences
You can customize how routes are calculated by tapping "Settings," "Navigation" and "Calculation Mode" on the Nuvi 2597LMT or "Settings," "Navigation" and "Route Preference" on the Nuvi 50LM and 52LM. Tap "Faster Time" to save driving time, "Shorter Distance" to save miles on your vehicle or "Off Road" for straight-line routes.
On any of these Nuvi models, you can choose to avoid U-turns, highways, interstates, toll roads and ferries by tapping "Settings," "Navigation" and "Avoidances."
Activate Voice Commands
The Nuvi 2597LMT has voice-activation capabilities. The default command is "Voice Command," but you can customize this phrase by tapping "Apps," "Voice Command" and "Customize Phrase." Record your phrase and the Garmin indicates how strong the phrase is. Use a strong activation phrase to avoid accidentally turning on the voice commands. When you are satisfied with your phrase, tap "Done." Say your activation phrase to start voice commands. To turn off voice commands, tap "Apps | Voice Command | Settings | Voice Command | Disabled."
Versions
This article applies to the Garmin Nuvi 50LM, 52LM and 2597LMT. Other models and packages may vary slightly or significantly.