A network printer connects to your local network through a Wi-Fi or Ethernet connection. Set up a network printer on your MacBook Pro by configuring the printer to join your wireless connection or temporarily connecting your computer to the printer via a USB cable and running either your printer's setup assistant software or a software update on your MacBook Pro. Since Mac OS X v10.6 comes with software for dozens of printers, you may be able to simply run a software update to install updated printer drivers. Alternatively, you can download software from Apple's Web site.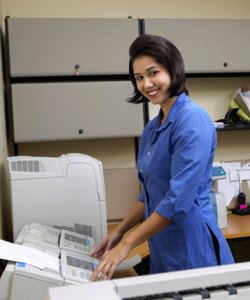 Adding a Printer With Wi-Fi Capability
Step
Turn on the printer and use its LCD screen to select your Wi-Fi network, or connect the printer via Ethernet cable to your router. Consult your user manual if you are unsure of this procedure. If using a Wi-Fi connection, enter your network password using the printer's touch keys. If your printer does not have touch keys, see Section 2.
Step
Open your MacBook Pro and click the Apple icon in the top-left corner of your screen. Select "Software Update" and wait for Apple to gather any printer updates that came installed on your Mac OS X installation disc. Check Apple Support's Printer and Scanner Software Web page for individual updates. Install any applicable software updates and restart your computer.
Step
Click the Apple icon and select "System Preferences." Click the "Print & Fax" icon and click the "+" button on the left side of the window, under the "Printers" box. Choose your new printer from the list of options. If your printer does not appear, continue to Section 2.
Temporary USB Network Setup
Step
Plug in your printer and add a few sheets of paper. Connect one end of a USB cable to your printer and the other to your MacBook Pro. Turn on your printer.
Step
Install any software that came with your printer, following the printer's setup instructions. Open the setup assistant application installed with your printer's software to begin Wi-Fi configuration. When prompted, choose your Wi-Fi network and enter your password. If you have no printer setup assistant, continue to Step 3.
Step
Click the Apple icon and select "System Preferences." Click "Print & Fax." If locked, click the lock icon in the lower-left corner of the window and enter your admin ID and password.
Step
Click the "+" icon in the lower-left corner of the screen to enter the "Add Printer" toolbar. Double-click the connected printer icon to add the driver to your computer.
Step
Run a software update for your MacBook Pro by clicking the Apple icon in the top-left of your computer's screen and clicking "Software Update." Wait for your computer to gather all driver or printer updates and install them to your hard drive. Disconnect the USB cable from your MacBook Pro.