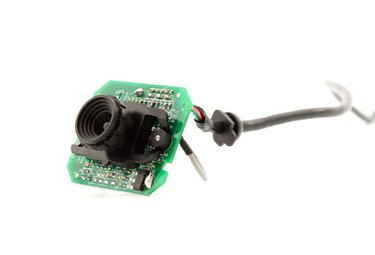 Perhaps you want to know what your kids are up to when you are out of the house. Maybe you just want to make sure that the baby sitter is doing her job when you go out for the night. Whatever the case, if you want to set up a wireless spy camera to know what happens in your house, with today's technology it is cheap, easy and can be done in a matter of minutes.
Step 1
Find a wireless spy camera that suits your needs. You can find any number of devices that are disguised as common household items, such as coffee cans, books or clock radios. Some even come with features, such as night vision. There are a number of places to purchase them online (See Resources).
Step 2
Plug the camera into a power source, or if it has its own battery, make sure that it is charged.
Step 3
Attach the antenna to the wireless receiver and plug the power cord into the back of it. Plug the power supply into a socket.
Step 4
Install the software that came with your kit on your computer by inserting the disc into the CD ROM drive and following the instructions.
Step 5
Plug the wireless receiver into the USB port on your computer. You should now be able to see whatever your camera is seeing on your computer.
Step 6
Set the camera up to record the area that you want to record. Make sure to stabilize the camera by using mounting screws or by using adhesive strips beneath it. You are now ready to spy on anybody that comes into the room.
Tip
Tips-If you'd like to be able to view this camera from the Internet you can use HomeCamera.com which is a free program.