ZyXel produces a wide array of wired and wireless routers that allow you to connect several computers and share a single broadband Internet connection. Whether you need to enable wireless connections for a group of laptops or connect office workstations to the Web, the process for configuring a ZyXel router is about the same. Compatible with most DSL and cable broadband modems, you can have your ZyXel router connected and networked computers browsing the Internet in about half an hour.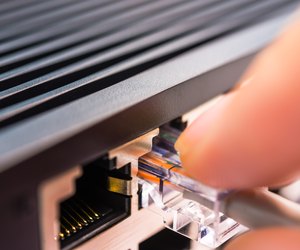 credit: MarkD800/iStock/Getty Images
Connect Hardware
Step
Connect a Cat5 Ethernet cable to the WAN port on the router. Connect the other end of the network cable to the Cat5, LAN or Network port on the modem. Connect the AC adapter to the router, then plug it into an available electrical outlet.
Step
Connect RJ-45 cables to any wired computers you want to use with the router. Plug the RJ-45 cables into the LAN ports on the rear of the router.
Step
Power on the broadband modem and the ZyXel router. Wait a few minutes for the modem to initialize and establish an Internet connection.
Configure Router
Step
Go to one of the PCs connected to the router via an RJ-45 cable. Open your preferred Web browser. Type "192.168.1.1" in the address bar, then press "Enter." When prompted to enter the administrator password, enter "1234" and then click "Login."
Step
Click the "Go to Wizard Setup" link, then click your preferred language on the welcome screen. Click "Next" on the "System Information" screen.
Step
Type a unique network name in the "Name (SSID)" field, then click "Next." A small dialog box appears and displays the "Pre-Shared Key" value. Write this value down, as you will need it to connect wireless computers to the router later. Click the "OK" button to close the dialog box.
Step
Select your broadband connection type from the drop-down list -- if the utility does not detect it automatically -- then click "Next." If using a "PPP over Ethernet" or "PPTP" connection -- most broadband connections are usually one or the other -- enter your username and password in the corresponding fields.
Step
Select the "Get Automatically From ISP" option if your service provider assigns a new IP address each time you connect to the Internet. If you have a static, or permanent, IP address, select the "Use Fixed IP Address" option, then enter the IP address and Subnet Mask assigned by the ISP in the corresponding fields. Click the "Next" button.
Step
Click the "Factory Default" option in the "WAN MAC Address" window, then click "Next." On the next screen, leave the "Enable BM for All Traffic Automatically" checked, then click "Next."
Step
Click the "Apply" button, then "Finish" to complete the setup process. Wait a few minutes for the router to reboot and apply the configuration changes.
Step
Open a new tab or window in your Web browser. Surf the Web as you normally would.