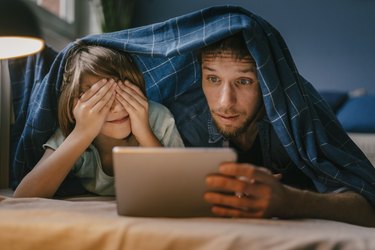 Netflix allows its users to create several separate custom profiles for every person in the home. You can set up Netflix profiles for the adults and children in your home so that it's easier for each of you to find the Netflix content that you want to watch.
Basics of Netflix Profiles
Netflix users previously had the ability only to have one profile which was tied into their Netflix username. This meant that if you wanted to share your Netflix login with others in your family, their watching habits would influence what shows were recommended to you on Netflix. This all changed in 2013 when Netflix made it possible to have profiles on your Netflix account. The Netflix profile limit is five, so you won't be able to create any more profiles than this unless you sign up for an additional Netflix account. Netflix limits the number of profiles that can stream Netflix at the same time. The Basic plan permits you to stream on only one profile at a time, while the Standard plan allows you to stream on up to two profiles at a time. The Premium plan allows you to stream on up to four profiles at a time.
Creating Profiles
Netflix profiles are useful for multiple-person households as each person can have his own profile. Each profile has its own saved list, ratings, recently watched list and TV show and movie suggestions that are personalized based upon previously watched media on Netflix. You can create a Netflix profile by going to netflix.com/YourAccount and logging in to your Netflix account. Click the "Manage Profiles" link and then click the "Add Profile" button. Type in a name for the profile and click the "Continue" button to create that profile. You can create up to four profiles besides your main profile before you reach the Netflix profile limit.
Changing Profiles
Profiles can be changed after they've been created. This is useful if you want to change things on a profile like the name, maturity level, playback settings and language preference. For instance, if you initially set up the profile as a kid profile and now want to allow more mature content for that profile or remove the kid designation altogether, you can change this on Netflix.com. Change your Netflix profiles by going to netflix.com/YourAccount and then selecting the "Manage profiles" link under My Profile. Click on the profile that you want to change to view the options for that profile. You can change the name or language, check or uncheck the kid option or delete the profile to start over. Note that, if you delete the profile, all watching history will be lost permanently.
Kid-Friendly Profiles
The ability to have separate Netflix profiles is especially helpful if you have young children in the house because you can create kid-friendly profiles. This prevents your kids from viewing Netflix content that is inappropriate for their age level. Netflix kid-friendly profiles also make it easier for your kids to find shows that are entertaining to them. You can create a Netflix kid-friendly profile by checking the box next to "Kid" during the profile creation process. Click the profile again to edit it and select either "For Older Kids and below" or "For Little Kids only" from the drop-down menu next to "Allowed TV shows and movies."