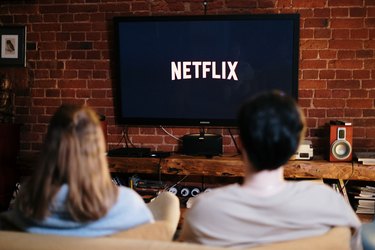 Whether you let your friends and family use your Netflix password or you borrow someone else's, that might have to come to an end soon. Netflix is currently testing ways to end password sharing so all viewers start paying their own way. Sigh.
A few weeks ago, the streaming platform announced that it was raising prices, which is never good news for users, and now the company is cracking down on password sharing between people who don't live in the same house. In other words, Netflix is hard up for cash to keep investing in original series and movies, according to Netflix's blog post.
The company will test two new features for members in Chile, Costa Rica, and Peru. Members on the Standard and Premium plans will be able to add sub accounts for up to people they don't live with — each with their own profile, personalized recommendations, login and password. They'll have access to a sub membership at a lower price: 2,380 CLP in Chile, 2.99 USD in Costa Rica, and 7.9 PEN in Peru. Members will also be able to transfer profiles to a new account or an Extra Member sub account where they can continue to view history, My List, and personalized recommendations.
It's possible the test will go very, very badly and the rest of the world will get to continue to share their Netflix passwords with whoever they want without any added fees. But that might just be wishful thinking.