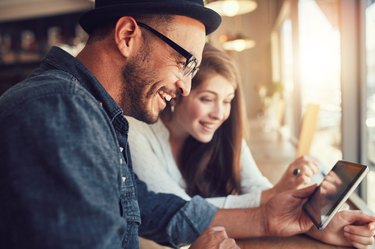 There are so many benefits to having an Amazon Prime membership, all of which you probably already know. But considering all the money you spend on the things you need (and definitely don't need) from Amazon, the $99 annual fee can be a bummer.
Well, here's something you might not know—you can cut the cost in half by splitting your membership with a friend or family member. Amazon allows members to add another adult to their account, because sharing is caring.
It's a smart way to do things if you share your account with your significant other, but prefer the things you buy to be kept secret. That way they won't accidentally see your purchases in the Orders tab, and you guys won't accidentally open each other's packages (you know you've done it).
This is probably obvious, but the person you link to should be someone you trust, because your credit and debit card information will be accessible to each other.
To se it up, on Amazon.com go to Manage Your Content and Devices > Settings tab > Households and Family Library > Invite an Adult. You'll just need to know the person's email and password to give them access. Once you're linked, you'll be able to choose the payment method you prefer for each account.
Both adults can manage parental controls for up to four kids. You can also add a teen or a child to your account and control their settings (like what they can and can't buy, listen to, or watch).
If you're adding a friend (aka someone you don't share a bank account with), you'll get to save $49.50 on the membership fee. Let's be honest though, you'll probably end up spending the money you save on Amazon anyway.