NIC teaming is the process of linking or teaming network cards in a group or team to provide bandwidth aggregation or fault tolerance. NIC teaming can improved bandwidth performance considerably and prevent connectivity loss. However, NIC teaming doesn't necessarily require more than one network adapter. As long as at least one of the network adapters in your server supports virtual local area networks -- most modern Ethernet cards do -- setting up NIC teaming in Windows Server is relatively straightforward.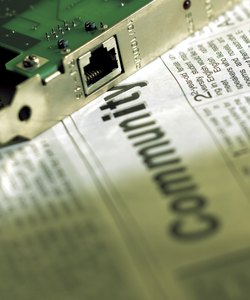 credit: Jupiterimages/Photos.com/Getty Images
Step
Launch a Web browser and browse to the support page of the company that manufactured the Ethernet card(s) used in your server computer. Download the latest Windows drivers for the NIC card(s) and install them on your computer. If the manufacturer provides an advanced configuration utility for the network card(s), download and install it as well.
Step
Press "Windows-R" to open the Run window. Type "lbfoadmin" in the Run box, and then press "Enter."
Step
Click the network name of the server in the list of servers, even if there is only one. Click "Tasks" on the menu bar, select "Teams," and then click "New Team."
Step
Enter a name for the new NIC team in the Add Team dialog box. Select the adapters you want to add to the new NIC team from the list.