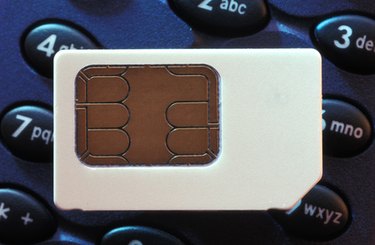 The tiny SIM cards (Subscriber Identity Module cards) that most mobile phones are equipped with when they are purchased from a wireless carrier pack a lot of pertinent data about the phone and its user, such as contacts, text messages and geo-location information. The mobile phone manufacturer syncs the phone and the SIM card so the phone can only be activated with the SIM card provided by the manufacturer for that particular device, and the SIM card can only be used for that particular device. (It is non-transferable to other phones.)
Though the iPhone's manufacturer (Apple) goes to great lengths to ensure the popular iPhone will be inoperable without a SIM card, it is possible (through third-party software) to crack open the iPhone's software and force a recovery of the original factory settings without the SIM card lock (a process often referred to as "jailbreaking" a phone). Best of all, jailbreaking an iPhone is now completely legal.
Step 1
Install the latest version of iTunes onto your computer. Go to the iTunes website and click "download."
Step 2
Install Blackra1n iPhone jailbreaking software onto your computer. Go to Blackra1n's website to download software. The download screen prompts you to select either the Microsoft Windows logo or the Apple logo to download the software. Select the appropriate icon for your computer to begin the download process. This process will take a few minutes. Allow the website to complete the process without interruption until you are prompted that the software has been installed.
Step 4
Connect your deactivated iPhone to your computer with an iPhone-compatible USB cable.
Step 5
Launch the Blackra1n software from your computer's hard drive. Click "make it ra1n." Your iPhone is now in "Recovery Mode." Do not interrupt this process.
Step 6
You iPhone device will now automatically reboot itself and launch the standard iPhone software, apps and features as it normally would if there were a SIM card in it, without restrictions. Proceed to set up and install apps to your iPhone as desired.
Things You'll Need
iPhone

PC or Mac computer

Internet access

USB iPhone-compatible cable
Warning
Before performing any recovery or modification to your device, make certain that you have the latest version of iTunes installed on your computer. Go to the iTunes website to verify the latest version. When launching iTunes, you will also usually be prompted to update to the latest version of the software.