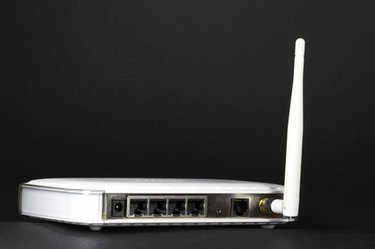 Available since late 2004, the WPA2 security mode for wireless networks improved upon WPA security by utilizing Advanced Encryption Standard (AES), while WPA incorporates Temporal Key Integrity Protocol (TKIP). WPA2 comes in two varieties, personal and enterprise. Most home users should opt for WPA2-personal, since WPA2-enterprise requires a specific authentication server to be installed and running. Most recent routers, operating systems and network cards support WPA2 out of the box, but older hardware and software must be upgraded prior to implementing WPA2 security.
Step 1
Click on "Start," "All Programs" and "Windows Update." Download and install all critical system updates and any driver updates for your wireless card. Restart the computer if prompted.
Step 2
Open your favorite Web browser. Type "192.168.1.1" (without quotes) or the IP address of your router in the location bar. Press the "Enter" key.
Step 3
Type your router's administrator username and password. Press the "Enter" key.
Step 4
Check your router for updates if it does not currently support WPA2 encryption by clicking on the "Administration" or "Status" tab. Download and install the update by clicking on the update and follow the on-screen prompts.
Step 5
Access the "Setup" or "Wizard" option if you have not previously set up your wireless network and follow the prompts. Select the "Wireless" or "Wireless Security" tab if you have set up your network previously.
Step 6
Select "WPA2 Personal" as your "Security Mode." (Depending on your router software, you may have to select "WPA-Personal" first, then specify "WPA2.")
Step 7
Type a "Security key" of your choice and write down the key exactly as you typed it. Your key should be at least 8 characters long. Mix capitalized letters, lowercase letters, numbers and symbols for the best security. Do not use names, important dates or other common words for your security key.
Step 8
Click the "Save settings" or "Save" button. Allow your router to restart.
Step 9
Click on "Start," then "Control Panel." Click on "Classic View" in the left column if applicable.
Step 10
Double-click "Network and Sharing Center" or "Network Connections."
Step 11
Click on "Manage wireless networks" in the left column in Windows Vista or Windows 7. Right-click on the "Wireless network connection" and left-click on "View available wireless networks" in Windows XP.
Step 12
Double-click your wireless network account or click on the "Add" button if you are setting up a new network. Click on the "Security" or "Association" tab if you are modifying an existing network.
Step 13
Click on "WPA2 Personal" from the "Security type" drop-down menu. Set the encryption type to "AES." Type your "Security key" exactly as you entered it in your router settings.
Step 14
Click on "OK" and allow Windows to log on to your network.