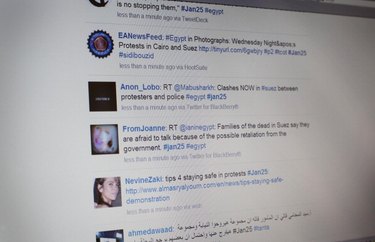 Twitter is a popular social networking website where users can send "tweets" – short text messages of 140 characters or less – to followers as well as follow the tweets of others. Twitter has a universal search feature that you can use to submit queries and view results from every Twitter user whose status is set to public. When submitting a Twitter search query, you can sort the results based on popularity. The popularity of a single tweet is determined by the number of responses and retweets it receives.
Step 1
Open a Web browser and navigate to the Twitter.com website.
Step 2
Input your Twitter username and password in the upper right corner of the page and click "Sign In" to log in to your main timeline view.
Step 3
Enter the desired search terms in the input box at the top of the page and to the right of the Twitter icon.
Step 4
Press the "Enter" button on your keyboard or click on the "magnifying glass" icon to initiate the search query.
Step 5
Click on the drop-down menu at the top of the results list and choose the "Top" setting to re-sort the search results based on popularity.