How to Storyboard Your Web Site. Creating a Web site is not hard to do, but making it easy to navigate and informative can be challenging. Providing information is not always a problem, nor is organizing that information. Getting it all right the first time, however, is a challenge that gets the best of the most proficient Web site builders. An easy way to make sure it all flows and is simple to navigate is to storyboard your Web site. Storyboarding is an easy way to see what information goes on which page and how that page will flow with the other pages on the site. It will also allow you to see how the site navigation needs to be set up and avoid you having to redo the menus or content on multiple pages.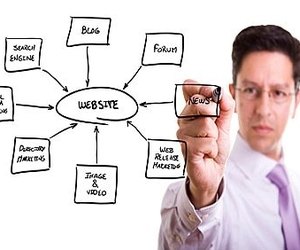 Step
Collect the information that you want to include on the Web site. This includes text as well as images.
Step
Sort the information into topics. Topics should start at the broadest and work toward the narrowest.
Step
For each page of the Web site, determine page title, headings, sub headings and content.
Step
Plan the structure of the information and how the pages will link. This needs to be logical. It can be linear, hierarchical or a branch design, in the form of a web.
Step
Layout the menu structure.
Step
Layout your template page. This should be the interior page of the Web site.
Step
Test the layout. Imagine that you are a visitor to the Web site. You can enter on any page. Does it work? If not, start again.
Tips & Warnings
Bubble charts in a presentation software work well for storyboarding a Web site while text files work well for storyboarding the individual pages.