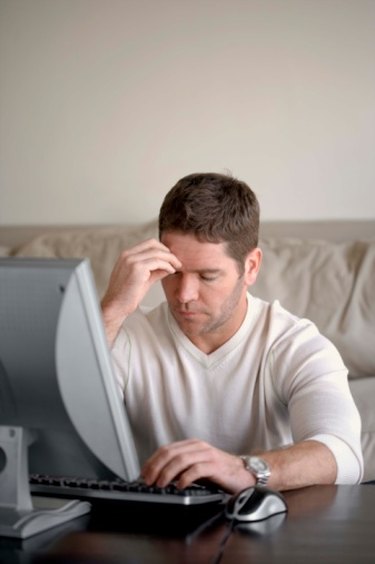 One of the most frustrating experiences while watching an online video is when it starts buffering. You may experience it while watching video clips on YouTube or while streaming a full movie on NetFlix or Hulu. A video buffer may occur when your Internet connection is slow or the server on which the video is uploaded is slow. It may also occur due to certain system settings. Either way, you can stream a video without any buffer by following certain troubleshooting steps. Note that certain steps may require you to have administrative rights on your computer.
Step 1
Check your Internet connection. A slow Internet connection is one of the leading causes of video buffering. Restart your modem by unplugging it from the main power source and wait for a few minutes before plugging it back in.
Step 2
Use a wired connection instead of a wireless connection while watching videos. Unplug one end of the Ethernet cable from the wireless router and connect it directly to one of the open Ethernet ports on your computer.
Step 3
Clear your Web browser cache and cookies. Click the "Tools" menu on Internet Explorer and choose "Internet Options." Click the "General" tab. Click the "Delete..." button underneath "Browsing History." Check "Temporary Internet files" and "Cookies" check-boxes. Click the "Delete" button. If you use Mozilla Firefox, click the "Tools" menu and select "Clear Recent History." Select the "Cache" check-box. Click the "Clear Private Data Now" button. For Google Chrome users, click the wrench icon on the browser toolbar. Click "Tools." Select "Clear browsing data." Check "Empty the cache" and "Delete cookies" check-boxes. Click "Clear browsing data."
Step 4
Pause the video. Let the red loading bar beneath the video load completely to the end of the player. Once the video has fully loaded, attempt to play the video again.
Step 5
Switch to standard resolution as opposed to HD quality or High-resolution. The option is typically located at the bottom of the player next to the volume controls.