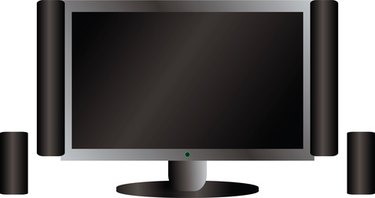 Your guest may be uncomfortable looking at movies or images from your vacation on the small screen of your laptop or desktop computer. Syncing your computer to your television will allow your media content to be viewed on a larger screen and in high definition if you have an HD television. A simple cord that can be purchased at your local electronics store will allow you to sync your computer to your television in minutes.
Step 1
Connect the VGA cord in the back of your computer in the same connection where your computer monitor would connect. Plug the other end into the back of your television's VGA port (this connection is standard on most HD televisions). Use an S-Video cable to PC cord if you are using an older television that does not have a VGA connection. Purchase an HDMI to PC cord if you want a more clear, hi-def connection from your computer to your television.
Step 2
Navigate to "Start," "Control Panel," "Appearance and Personalization" and click on "Connect to a Projector."
Step 3
Choose the option to have your computer monitor mirror the image to your television or you can have the television act as an extension of your computer monitor. You can also disable the computer monitor where the computer image projects on the television alone.