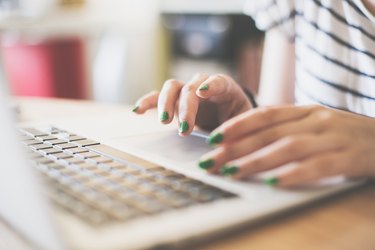 Have you ever wanted to capture what was on your computer screen to illustrate something you were teaching? Screenshots have a variety of uses for documentation and technical support. A screenshot lets you capture the exact error message you received for a programmer or technical support person. Windows 95 and above support the same single-key method of capturing a screenshot.
Step 1
Press the "Print Screen" key on the top let side of your keyboard. This key is sometimes labeled "Prt Scn" or "Prt Sc." This copies a picture of the screen to the clipboard.
Step 2
Open the "Start" menu and run Microsoft Paint from the "Accessories" folder of the "All Programs" section. You may also use any program with image capabilities, such as Photoshop, Gimp or Microsoft Word.
Step 3
Open the "Edit" menu and click "Paste." Click "Yes" to enlarge the bitmap.
Step 4
Click the "Save as" option from the "File" menu. Enter a name and location for the image. Select "JPG" or "PNG" file type for easy Web distribution or emailing.