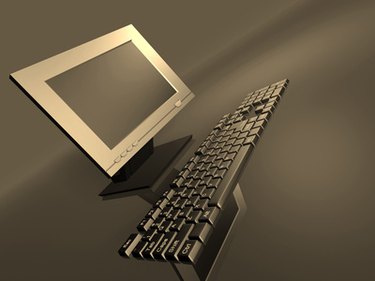 Screen shots are useful for many reasons. They allow different people in separate locations to easily display the contents of their screens. This can be of benefit to Web designers or those describing a particular process with a visual aid. They also help create tutorials, books, and other resources about computer activity. For this reason, it is often necessary to make a screen shot. Windows offers the ability to capture screen shots with the press of a button. The "Control" key may be used in some circumstances.
Step 1
Move the windows on your screen to the positions you need for the screen shot. Scroll the contents of any windows to an appropriate place in a file or website that shows all the information you need to capture. Also be sure to close or hide any windows that you do not wish to share in your screen shot.
Step 2
Press the "Print Screen" button on the keyboard. A screen shot should be automatically captured. You will not see anything take place on the computer while this happens. On some systems, it is necessary to hold down the "Control" button when pressing the "Print Screen" key if the computer has configured "Print Screen" for other purposes.
Step 3
Press the "Alt" button in combination with the "Print Screen" key if you wish to create a screen shot of an isolated window rather than the entire visible screen. The active window will be captured and nothing else.
Step 4
Paste the screen shot into any program that accepts "paste" tasks. This can include many word processors, image editing software and some email programs. Hold the "Control" key down while pressing the "V" key. This shortcut will automatically paste the image. You can now manipulate the screen shot as you would any other image file.