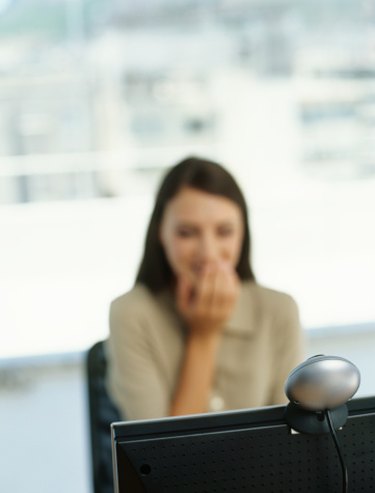 Your webcam, whether it's built into your computer's monitor or attached via a USB cable, can be used by streaming software to transmit a live video from your current location to a remote location, such as a video streaming website or another user's computer. Though webcams serve a valid purpose — communicating with users in a different location — they can also be a source of paranoia. You can do a few things to check whether your webcam has been compromised if you have ever looked into its lens and wondered, "What if someone's watching me right now?"
Step 1
Look at your webcam to see if its recording light is on, which indicates that the camera is in use. Alternatively, look at your laptop's notification panel located above the keyboard or along one of the edges for an illuminated webcam light. It is unlikely that a hacker could manage to disable the recording light while using the webcam.
Step 2
Right-click on the taskbar and choose "Task Manager." Click the "Processes" tab. Look through the list of running processes for a webcam utility. A running webcam utility doesn't automatically mean the webcam has been hacked, however; it may be set to run automatically when the computer is turned on. If you're unsure, click "Start," "Restart" and wait for the computer to reboot. Check the Task Manager to see whether the webcam utility started automatically.
Step 3
Attempt to run the webcam; you get an error that the device is already in use if the camera has been hacked and is in use. Don't panic if the warning appears, however; it can also mean that a different program on your computer is using the webcam and causing the error. Click "Start," "Control Panel." Choose "Add/Remove Programs," then "Uninstall Programs." Remove any application or software package that has a webcam feature, except your primary webcam utility. This may include chatting software and video-making programs. Restart the computer, then attempt to run the webcam again.
Step 4
Run an anti-virus program and write down the name of any infections it finds. Search the name of each infection via your favorite search engine and see if one or more of them are known to hijack the infected computer's webcam. Delete the infections using the anti-virus software that found them.
Tip
Place a piece of electrical tape over your webcam when not in use to prevent a hacker from viewing and recording you through your own computer.