Windows automatically installs drivers for your laptop's built-in webcam when you install the operating system, so you can record videos, make video calls and set up home surveillance software right away. To capture pictures or video, you can use the Camera app included with Windows, but to make video calls or use instant messaging, you must install third-party software. With home surveillance software, you can automatically send emails to your mobile device when your webcam detects motion.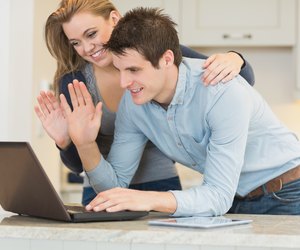 credit: Wavebreakmedia Ltd/Wavebreak Media/Getty Images
Capture Images or Video
Step
Open the Camera app. This program is part of the Modern user interface, and if you haven't removed its icon from the Start screen, you can access it by pressing the "Windows" button and clicking the "Camera" icon. The Camera app displays video input from your webcam in full-screen mode.
Step
Click "Photo" to take a picture or "Video" to record footage. If you're recording video, click "Video" again to stop recording. The Camera app saves your pictures and video in the Camera Roll folder in your Pictures library.
Step
Click the left arrow to see the pictures or video you captured.
Instant Messaging and Video Calls
Step
Open the Windows Store to download a free Voice-over-IP app, such as Skype or IM+ (links in Resources). Since Microsoft owns Skype, the Windows website recommends Skype for the Modern UI, but if you prefer the traditional interface, you can download Skype for Windows Desktop (link in Resources). You may also want to try the browser-based Google Hangouts app if you have a Google+ account (link in Resources).
Step
Open the VoIP program and search for contacts in the Search box. This step works the same way for any VoIP app, and the search only returns contacts who have accounts with the same service. If you're using an IM-service integrator such as IM+, choose your service from the main menu to begin using the app. For example, click "Facebook," "Yahoo" or "AOL" to connect to one of these services.
Step
Select a contact from the search results or your contacts list and click the "Video Call" button. VoIP apps typically use a universal video camera symbol to represent the video call feature. After clicking the button, your video chat begins, and you can see your contact in the app window when she answers the call.
Home Surveillance
Step
Open the Windows Store and download a home surveillance app, such as iSpyUI, IPCam or Webcam Security Camera (links in Resources). Most home security apps enable you to monitor your home over a local network for free but require a subscription to use cloud services, such as online storage and automatically sending emails when your webcam detects motion.
Step
Position your laptop so that the webcam records an area you want to monitor. Open the home surveillance app and click "Settings" to configure video quality, motion sensitivity and network settings. The Settings menu displays an IP address you can enter in a Web browser on the same network, and you don't need to install the app on other computers to monitor the footage. This feature is standard for home surveillance apps.
Step
Sign up for a subscription to use additional features. You can access the app's account setup option in the Settings menu. The iSpy and Webcam Security Camera subscriptions enable you to monitor your webcam footage from any network. IPCam doesn't offer this feature, but it does offer other unique features, such as night vision recording and integration with Microsoft OneDrive.