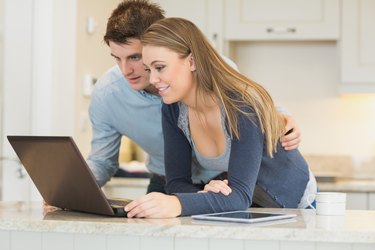 Most HP laptops come equipped with a built-in webcam. However, many casual users have difficulty accessing the webcam. Whether you're a first time user or you have deleted the "HP Webcam" icon from your desktop, you can easily access the webcam. The only requirement is that you have the HP QuickPlay software and latest driver for the webcam installed on your computer.
Step 1
Download the latest driver for the webcam by navigating to the HP Support and Drivers website (hp.com/us/en/support-drivers.html). Enter the laptop's model number, which can be found on the front of the laptop screen as well as the product sticker on the bottom of the laptop. Select the exact model from the list that appears. Then select the operating system that is installed on your HP laptop. Download the webcam driver from the list of available driver and software programs. Install the driver and reboot the computer at the end of the installation process.
Step 2
Launch the HP QuickPlay application. Almost all HP laptops have the program pre-installed. If for some reason you don't have the program, you can download it from the HP website (hp.com/us/en/support-drivers.html).
Step 3
Click on the "Music Videos Pictures" icon in HP QuickPlay. HP Webcam will be available among the list of devices. Click on the "HP Webcam" button to turn it on. A light next to the webcam lens and an image will appear on the screen.
Step 4
Double-click the active webcam image to enlarge it to full-screen.
Step 5
Scroll down to the lower-left corner of the screen and click on the "Snapshot Image" icon to take a picture. Click the "Record" icon to record a video.
Step 6
Click the "Info/More Settings" icon denoted with a lowercase "i" to change settings such as the aspect ratio (4:3 or 16:9), or recording quality.
Step 7
Use adequate lighting for the webcam considering its limited image quality and low light capabilities.
Now that you have installed the driver for the webcam, most third-party programs should also be able to detect and access the webcam. It can even be used it with messenger applications for video chatting/conferencing.