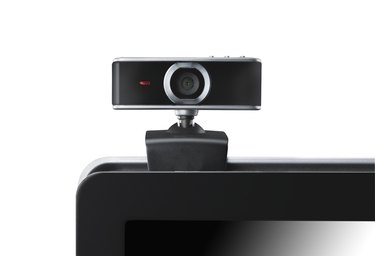 If your Asus laptop computer shipped with an integrated webcam, you might want to adjust the device's settings to improve image quality before capturing video clips or video chatting with online friends. The Asus LifeFrame software bundled with all webcam-equipped Asus laptop computers controls the device's video settings. Launch Asus LifeFrame to adjust all webcam settings, including color, contrast, audio volume and video resolution.
Step 1
Click "Start" on the Windows taskbar. Select "All Programs" from the Start menu.
Step 2
Click on the "Asus" or "Asus Utility" folder, then select "LifeFrame." This launches Asus LifeFrame in a new window.
Step 3
Locate the LifeFrame Options wheel icon in the bottom left of the program window. Click the "Video" icon on the wheel to launch the webcam.
Step 4
Click the "Color" button beneath the webcam display in the center of the window. Move the slider to the left to reduce the color intensity of the webcam video. Change the settings for video contrast and audio volume in the same way, by clicking the relevant button and moving the slider control.
Step 5
Click the "Video Resolution" button. Select your preferred resolution from the context menu. You might want to choose a lower resolution for online video chats and a higher resolution for video captures.
Step 6
Click the "Video File Type" button to change the file format of video captures. Choose from AVI, ASF and WMV formats. The widely used AVI format is compatible with most video players, so you might want to select this option for clips that you intend to upload to websites or email to friends.