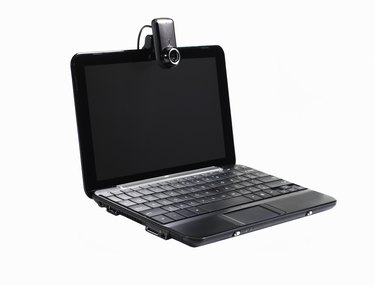 Whether you use your webcam for video chatting, taking snapshots or recording tutorials, lagging can severely hamper the quality of a webcam's output image. Webcam lag can be caused by a variety of factors including outdated drivers, Internet connection, computer performance and frame rate. After determining which factor is interfering with your webcam, you should be able to stop the device from lagging.
Internet Connection
A slow or busy Internet connection can cause a lagging or choppy image when using a video chat application such as Skype, Windows Live Messenger or Yahoo Messenger. Most VoIP services require a minimum Internet speed for quality video chatting, such as 256 kbps. Contact your ISP and confirm your Internet plan. Companies such as Comcast offer different Internet speeds. Depending on your plan, you may need to increase your connection speed to increase compatibility.
Third-Party Applications
Running applications in addition to using webcam software or a video chat service can cause your webcam image to appear sluggish. Close all memory-intensive programs, including media players, games and peer-to-peer software, as well as any open Web browsers. Launch your webcam software and preview your live webcam image. If the camera is still lagging, you may need to update your webcam driver or increase the device's frame rate.
Drivers
Outdated drivers can cause incompatibility issues between your webcam and a video chat application such as Skype. Go to "Start," type "Device Manager" in the search bar and click "Enter." The "Device Manager" window will open automatically. Expand the "Sound, Video and Game Controller" option and double-click the webcam driver installed on your PC. Click the "Driver" tab at the top of the "Properties" window and then click the "Update Driver" button.
Frame Rate
A laptop's power-saving mode can greatly reduce the webcam's fps (frames per second). If you're experiencing webcam lag on a laptop, use the power supply cord to charge your computer. After plugging in your laptop, launch your webcam software. Click "Settings" and locate the "Frame "Rate" option. Increase the frame rate to 30 fps, which is ideal for recording or streaming video.