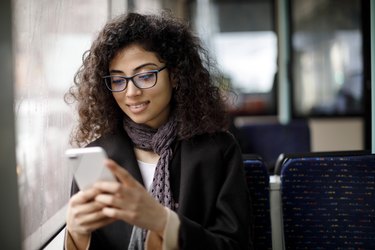 From the time you get your first smartphone, it becomes an important part of your daily life. Occasionally, you'll need to know the exact make and model of your phone, especially if you're buying a case or other accessory for it. Android-based and Windows-based smartphones are often identified by their operating system, since they come from a variety of manufacturers, while iPhones and Blackberry mobile phones are identified by their model type.
Determining General Phone Type
Your first step is to determine whether the phone you're holding is a landline or cellphone. You probably already have the answer to that, though. Landlines generally require you to press a power button, or they sit on a base when not in use, while cellphones remain on and ready to make and receive calls using your assigned cell number.
After you've decided that you're using a cellphone, you likely need to determine what type of phone you have. If it's a smartphone, it will have a large screen that lets you access apps. A feature phone is the opposite. It has a screen but lacks the many capabilities you find on an iPhone or Android phone. It's primarily designed to provide a cell number that you can use for calling and texting and a few basic apps.
iPhone Versus Android
After you determine whether the phone you have is a landline or cellphone, take the next step to figure out the type of phone you have. If it's a smartphone, chances are it's an iPhone or an Android-based phone. An iPhone is always marked with Apple's signature logo, an apple, on the back.
An Android phone can be tougher to identify. Just as you have the same cell number from one phone to the next, Android can be installed on a wide variety of phones, including Samsung, Motorola, Sony and LG phones. Typically, the phone type is written on the case itself. It should say something like Google Pixel 3, Samsung Galaxy S9 or LG G6. If it's not there, go to Settings from your phone's screen and choose About Phone.
Other Models
Although they don't have as big a market share, your cell number works just as well on a phone that isn't Android- or iOS-based. One alternative operating system is Windows. Although the Microsoft operating system is being phased out, there are still plenty of phones that have it. Determine the make and model on the phone's casing or go to Settings, About and More Info to get the exact operating system you're using.
If you've been around a while, the BlackBerry may have been your first smartphone. Although the company's market share has dropped significantly in recent years, there are still quite a few around. To determine a BlackBerry model, go to Options, Device and About Device Versions.
Use an App
As long as you have a smartphone, there's an easy way to determine the type of phone you have. For Android, you can download the Device Information Provider or DevCheck app and get real-time information on your device. This includes detailed data on the hardware and its performance.
If your phone is iOS-based, download Lirum Device Info Lite or a similar app that offers details on everything from your phone's battery performance to its sensors and other hardware.
When you need information, download one of these apps, get the data and uninstall it or keep the app. Whether it's your first smartphone or your twentieth, an app can come in handy for tracking your phone's performance on an ongoing basis.