Cell phones come in a variety of styles, models and colors. Each wireless phone contains its own identifying information found in various places. In most cases, following a few simple tips makes locating your wireless phone information simple.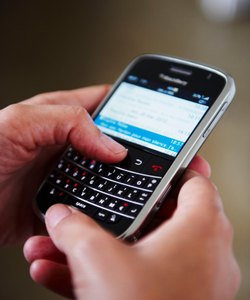 Step
Find the original box for your cell phone. Look at the front, bottom and both sides of the box. The name of your cell phone is usually listed in one or all locations.
Step
Check your user manual. The name of your phone may be found on the front cover of the manual and throughout the instructional pages.
Step
Pick up your cell phone. Look above the "Menu" key or main home screen. Some wireless phones display the make or model in one or both places.
Step
Turn your phone over and look for the make or model near the top or bottom of the phone cover. For example, the LG Rumor 2 displays the letters "LG" on the back lower section of the phone.
Step
Press the "Menu" key on your phone. Locate "Settings" and tap "Phone Information" or a similarly named feature. Press "Phone" or "Version." Depending on your particular phone, the location of this information varies, but the steps to access this information is quite similar.
Step
Turn off your cell phone. Flip the phone over and remove the back cover. Retrieve the battery and look for a sticker underneath the battery compartment. Depending on your specific phone, the sticker may contain wireless carrier information as well as the phone's make and model.