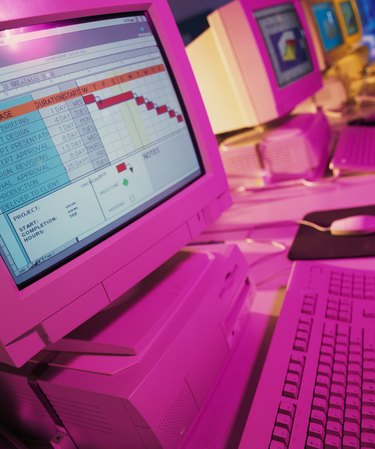 The number of "Likes" your Facebook page receives can be a primary way to gauge the success and popularity of your page. The more fans, or "likes," your page has, the more people with whom you can share your content. When your page has a small number of "likes," you can track who likes and un-likes your page fairly easily. However, as your page's fan base grows, you may find it more difficult to tell who un-likes your page. By creating and regularly updating a simple spreadsheet of your Facebook page's fans, you can keep track of exactly who has liked and un-liked your page.
Creating the Spreadsheet
Step 1
Log into your Facebook account and navigate to your page's URL.
Step 2
Make note of the number of people who have liked your page. Facebook displays this number in the left column under the "About" section, in a large, bold number.
Step 3
Click the "People Like This" link in the left column, beneath the number-counter of people who have liked your page. Clicking this link displays all the names of the people who have liked your page, in alphabetical order by first name in a popup box.
Step 4
Click the box just to the left of the first person's name. Then, while holding down the mouse button, drag the cursor to the last name on the list, to highlight all the names of the people who have liked your page.
Step 5
Right-click the highlighted text and select "Copy" in the popup box that appears to copy your entire fan list to your computer's clipboard.
Step 6
Launch a text-editor software, such as Microsoft Notepad, and paste your list of fans into a new text document. This removes all images and formatting from Facebook and leaves you with a plain text-based list.
Step 7
Delete all special characters, such as asterisks, as well as any information below any of your fans' names that isn't a name, such as places of employment or university alma maters. Also delete any hard returns between names. You should now have a text-only, single-spaced columnar list of all your page's Facebook fans.
Step 8
Copy the list to your computer's clipboard by clicking "Edit" in the menu, clicking "Select All" in the drop-down menu, right-clicking and selecting "Copy."
Step 9
Launch your spreadsheet software. Use Microsoft Excel, the free OpenOffice alternative, Calc, or the free, Web-based spreadsheet application from Google in Google Docs.
Step 10
Click the first cell of the first column and drag your mouse down as many cells as you have Facebook fans. For example, if your page has 150 fans on Facebook, drag your mouse down to the 150th cell of the first column, highlighting all the previous cells in the same column.
Step 11
Paste the text list of fans' names by holding down the "Ctrl" key and pressing the "V" key. Your spreadsheet displays your list of fans as a single column, alphabetized by your fans' first names.
Step 12
Save your spreadsheet to your hard drive (or, if using Google Docs, to the Google servers), and give it an easily identifiable document title, such as "Facebook Page Fans."
Who Unlikes Your Page
Step 1
Check the "People Like This" number on your Facebook page regularly to see if the number of fans has decreased.
Step 2
Open your spreadsheet with the list of your Facebook fans.
Step 3
Repeat the process of creating a new list of your page's current Facebook fans in Notepad.
Step 4
Copy the text list to your computer's clipboard.
Step 5
Paste the list in the column adjacent to your old list of fans in your spreadsheet.
Step 6
Compare the two lists. Since they are both in alphabetical order by first name, you'll be able to see where any missing names are on the new fan list by scrolling down and seeing where the lists stop displaying identical names side by side.
Things You'll Need
Spreadsheet software (optional)

Google Docs account (optional)
Tip
You may want to replace your old list of fans with your new list, so that you can repeat this process in case anyone else un-likes your page in the future. Or, you can just create additional columns to the right of the most current fans list for ongoing comparisons.
Check when your page has added new fans as well, and add them to your spreadsheet in alphabetical order. This way, you can see more quickly who has un-liked your page when the number decreases.