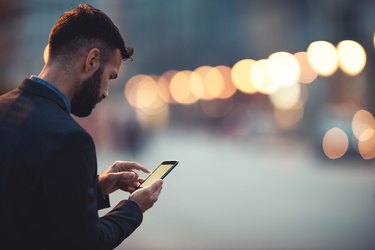 In today's interconnected era of digital technology, it seems there is virtually no limit as to how our portable devices can be integrated into our daily lives. The smartphone is, perhaps, the most effective example of this dramatic evolution of personal technology and utility over the past decade. As the GPS technology powering these devices continues to evolve, it should come as no surprise for many that our cellphones are now able to act as "beacons" by which our friends and family can determine our physical location. You can use a few easy-to-follow steps to find a cellphone location anywhere in the world.
Tracking a Phone Number With Google Maps
You can share your precise location with others using a combination of your phone's GPS signal and Google Maps. Not only can you share your current location, but you can also share your progress within a specified set of directions, which allows other individuals to determine when you may be arriving at your location. To distribute your GPS information to others, you must first go to the "Location Sharing" menu in your Google Maps smartphone app. If you haven't downloaded the app, you can do so using your phone's app marketplace.
Once inside the Maps app, navigate to the "Location Sharing" tab, which can be found in the main menu options. After you select the "Location Sharing" tab, you are given a prompt that provides you with a selection of sharing options. Here, you specify exactly how long you want to share your location information and to whom the information is shared. If, for example, you want to broadcast your current location to your entire social network, you can do so.
However, if you are sending your location specifically to one person and prefer that the information is withheld from others, this is also possible. After completing your selections, confirm them and exit the app. Even after you leave the Maps app, your location is broadcast to the intended recipients.
Finding the Location of a Phone Number on Maps
The intended recipients receive a notification that your current location is being shared with them. Using the Google Maps app, they can plot a course to meet you at your location or provide you with directions to another nearby destination, among other possibilities. Just as you have shared your location, these individuals can also complete the same process to share their current location or their progress on a path toward you or another destination.
You can deactivate your location tracking at any time. If you feel that location sharing is putting you in danger for any reason, you should immediately turn off this feature. As a rule, only consider sharing your location with individuals you know and trust.