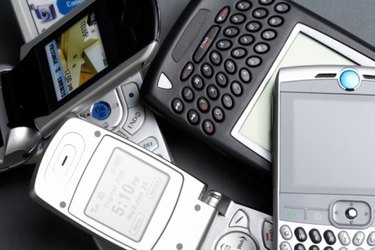 Unlike the majority of other U.S. cell phone providers, Cricket Wireless is strictly prepaid -- you'll never have to sign a contract in order to use Cricket service. As such, the usual fine print most carriers include in their device upgrade agreements -- in order to receive a lower price, for example, you'll often need to extend your contract -- are irrelevant to Cricket users. Transferring Cricket service to a new phone is a simple process free of legal and financial obligations.
Step 1
Upgrade your phone through Cricket if you don't already have a new one in mind. Point your browser to the Cricket Account Web page then log in using your Cricket phone number and password. Click the "Upgrade" button within "MyCricket" and shop phones until you find one that meets your requirements.
Step 2
Flash the phone to which you wish to transfer Cricket service if you purchased it through another carrier. Cricket uses the Code Division Multiple Access (CDMA) network and handsets, which means that programming -- not the use of a SIM card -- dictates a given phone's network affiliation. Bring your phone to your nearest Cricket store, whose associates can either flash your phone while you wait, or direct you to a nearby, authorized agent who can do the same. If you don't flash your non-Cricket phone to Cricket's network, you can't use it with Cricket.
Step 3
Activate your new phone to transfer existing Cricket service. Click the first link listed under "Resources," then "Activate Now." Click "Activate Now" again, then enter your phone's serial number, located on the inward-facing surface of its battery. Click "Next," then enter your Cricket account credentials, log in and select the option to activate this phone to your existing account. Click "Activate."