Today's mobile phones are capable of much more than simple telephone calls. Even the most basic devices have the ability to connect to your desktop computer to transfer files and photos or synchronize data. With the proper hardware, this task can be completed without additional cost.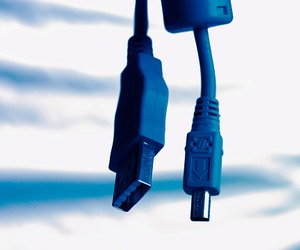 Step
Connect your mobile phone to your desktop computer. Plug one end of the USB data cable into your phone and the other end into an available USB port on your PC. The computer should automatically detect the presence of the phone and prepare itself for proper communication.
Step
Access your mobile phone's files. From your desktop computer, double-click the "My Computer" icon to view a list of hard drives and removable storage devices. Double-click the icon representing your cellular phone.
Step
Locate the files to be transferred. Browse through your mobile phone's file system until you reach the folder containing the files you want on your desktop computer.
Step
Select the files to be transferred. Hold down the "CTRL" key on your computer keyboard and left-click each file. Once you have made your selection and highlighted each individual file, right-click and choose "Cut" from the list of options that appears.
Step
Initiate the transfer. Navigate to the folder on your desktop PC where you want to store your mobile phone files. Choose "Edit" from the toolbar at the top of the folder window and select "Paste." This will immediately begin the process of removing the chosen files from your mobile phone and transferring them to your computer.