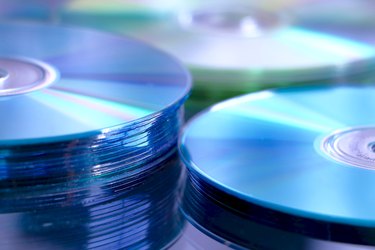 A Secure Digital (SD) card is usually used to store photographs on digital cameras, but you can also use one to store music and video files. Depending on the type, an SD card can hold between two gigabytes and two terabytes of data. Although the card's small size makes it extremely portable, that portability increases the likelihood that you will lose the card. You can transfer files from an SD card to a CD or DVD for long-term storage, or to give the files to another person.
Step 1
Place a blank CD or DVD into your computer's optical drive. Put the SD card into the SD card slot, or into an SD card reader on your computer.
Step 2
Click the "Start" button in the bottom-left corner of the screen and select "Computer" from the menu.
Step 3
Double-click on the SD card icon in the "Devices With Removable Storage" section to see the files on the card.
Step 4
Hold the Ctrl key and click each file that you want to transfer to select the files. Right-click on any of the files and select "Copy" from the menu.
Step 5
Click the "Back" button at the top of the window to go back to the "Computer" menu.
Step 6
Right-click on the DVD or CD drive icon. Select "Paste" from the menu. The computer will transfer the files to the CD or DVD. Click "Burn" to burn the files to the disc.