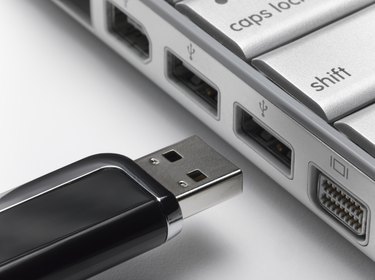 A Lexar memory stick is a portable memory card device that allows you to store and save photos. This means you can backup your favorite pictures and transfer them from one computer to another. Lexar memory cards vary in memory size and can support a large number of photos depending on that size. Using your computer, transfer your photos safely to your memory stick in minutes.
Step 1
Plug your Lexar memory stick into the memory card slot on your computer. The memory card slot is generally located on the front or side depending on your computer manufacturer and model. Purchase a multi-card reader from an electronic or retail store if you are using an older computer that does not come with a built-in card slot. Once you purchase a multi-card reader, connect it to your computer using the USB cable that comes with the reader. Insert your Lexar memory card stick into the card slot.
Step 2
Double-click "My Computer" or "Computer" on the desktop if you are using a Windows computer. You should see your memory stick's icon displayed as a removable hard drive. If you are using a Mac OSX system, you should see the memory stick on the desktop.
Step 3
Double-click your memory stick's icon. A new window launches. If you have any files saved to your memory stick, you should see them in the window.
Step 4
Drag your photos from your computer to the memory stick window to upload them to your portable storage device. When you finish, safely eject your memory stick by clicking the "Safely remove hardware" icon on the system tray if you are using a Windows computer. Click your memory stick in the hardware window that launches and click "Stop." When prompted, disconnect your memory stick from your computer. If you are using a Mac, drag the memory stick icon from the desktop to the trash bin and disconnect your memory stick from your computer.