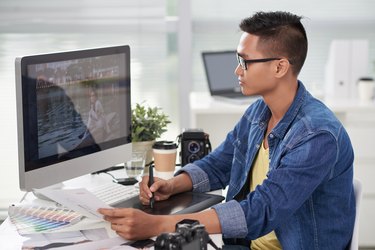 Transferring photos from a computer to an email account is commonly referred to as uploading. You can upload photos from your computer's hard drive and include them as attachment files on an email. The best way to transfer pictures from your computer to an email is to send them to yourself first. Sending the pictures to yourself makes the pictures active in your email's Sent box. You can always access them on your email, whether you're sitting at your own computer or out and about. Uploading only takes a second, depending on the number of photos you're transferring.
Step 1
Log in to your email account. Click the "Compose" or "New" option to set up a new email draft.
Step 2
Type your own email address in the "To:" field. Type "Photos" in the subject field, which is usually two data forms below where your email address has been placed.
Step 3
Click the option that reads either "Attach" or "Photo."
Step 4
Click "My Documents" and select the "Pictures" tab folder in the pop-up dialog box to locate the photos you want to transfer from the computer.
Step 5
Hold down the "CTRL" key and click each picture only once.
Step 6
Click "Open" to attach the pictures into your email draft.
Step 7
Click "Send" once all of the pictures have attached to the email successfully.
Tip
If you plan to transfer a lot of pictures, mass uploading may be more efficient than uploading the pictures to your email. With mass uploading, one large upload process can leave you with a single link to a batch of photos. You can send the link by email. The link serves as a download link for the pictures. AskStudent.com suggests some free mass uploading services.
Warning
Make sure you know the amount of space you can upload to your email at once. Most email services allow 25MB per email. In most cases, there is an upload meter, indicating the amount of space each picture takes up. Make sure you pay close attention to the meter to avoid uploading too many files. As a result, the email will not save or send.