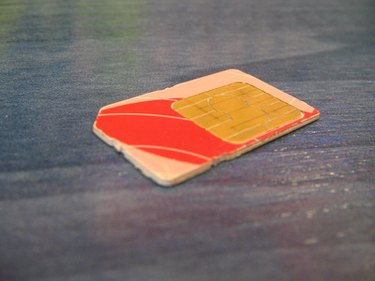 Every GSM cell phone uses a SIM card to identify itself to the cellular provider. For years now, these cards have also had a useful secondary function: there's enough data storage on the small plastic card to hold hundreds of names, numbers and addresses. This is especially useful when switching to a new phone, since you can copy the saved data from the old phone to the new one. This can save hours of tedious data entry on small keys, and is therefore a useful skill to acquire.
Step 1
Turn on your old phone--the one that you're transferring the data from. Select the address book (depending upon your phone, this may be labeled as "address book," "contacts," "numbers," etc.).
Step 2
Select the first contact or phone number that you wish to save. Activate the sub-menu by clicking the "menu" button, opening the contact, selecting "edit" or long-pressing the contact entry (depending on your phone.) Select "Copy to SIM card" and press "Enter," "OK" or the center of your phone's directional pad (again, depending upon your specific phone).
Step 3
Repeat Step 2 with all desired contacts. If your phone has a "Copy all to SIM card" feature built into the address book, activate it via the sub-menu to save time.
Step 4
Turn off your old phone, remove the battery cover and the battery and slide the SIM card out of its slot. Remove the battery cover and battery of the new phone, insert the SIM card into the slot and replace the battery and battery cover. Turn on the new phone.
Step 5
Open the address book in the new phone. You will see all of the contacts you saved from Step 2. If you want to make a second backup or you need to use a new SIM card, copy the contacts to the memory of the new phone in the same fashion, selecting "save to phone memory" in the sub-menu.