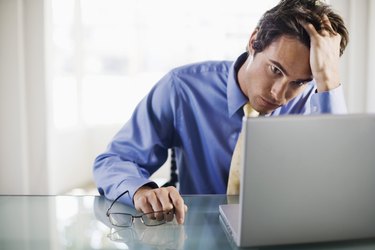 Dell Latitude is a series of laptop computers produced by Dell that run on Windows based operating systems. A common PC issue is lack of audio when performing activities that should play sound, such as watching videos or playing music files. There are many issues that can potentially cause sound to fail on a PC; it is best to start by troubleshooting the most common causes of the problem and move on to more advanced technical support if necessary.
Step 1
Verify your system audio is not muted and that sound is turned up. Click "Start," "Control Panel," "Sound," right click on "Speakers," select "Properties," click on the "Levels" tab, change the "Speakers/Headphones" to 50 or higher and make sure the blue speaker icon does not have a red circle over it. It if does, click on the speaker icon to turn of mute. Your sound options may be accessible in a shortcut on your taskbar.
Step 2
Make sure that the media player you are using has the sound turned up. Media players such as Windows Media Player that you may be using to play sounds have their own sound settings that are separate from your main system sound. While using a player, make sure the sound level slider is well above zero and that sound is not muted.
Step 3
Make sure there are no external audio devices plugged into your computer. If you have microphones or external speakers plugged in, it may cause sound issues.
Step 4
Fully update Windows. Click "Start," "All Programs" and then run "Windows Update."
Step 5
Check to see if your sound card is recognized and working properly. Click "Start," "Control Panel," "Administrative Tools," "Computer Management," "Device Manager," expand "Sound, Video and Game Controllers," and look for your video card. Right click on it and select "Properties." It should say it is functioning properly in a dialog box; if not, click on the "Driver" tab and click "Enable" if the option is available.
Step 6
Download and install the latest driver download for your sound card. In the Device Manager Properties window from step 5, click on the "Driver" tab and click "Update Driver Software..." You can also download driver software from Dell. (See resource link 3 at the bottom of this page.) You will have to enter your Latitude's service tag number, which will be on a label on the bottom of the system. This will allow you to search for driver updates designed for your machine.