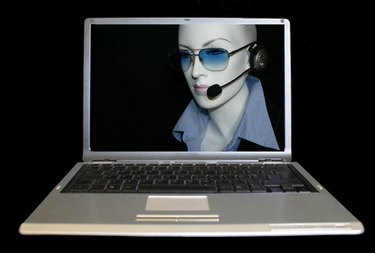 Having an internal microphone comes in handy on the HP Pavilion. You can use it to make videos, chat live with family and friends on the internal web-cam or to chat with people while playing games online. The microphone is located on the top of the display next to the webcam which lets it pick up sound easily.
Step 1
Right-click the "Speaker" icon by the clock on the computer's taskbar.
Step 2
Click "Recording devices" from the pop-up window to select the microphone.
Step 3
Right-click the menu box and a pop-up box will appear.
Step 4
Click "Show disabled devices" and "Integrated microphone" should appear in the box.
Step 5
Right-click "Integrated microphone" and click "Enable" to turn on the microphone.
Step 6
Tap on the front of the display by the top of the screen and the meter should respond to the sound. If the meter does not respond, click "Properties" and click "Levels" to adjust the microphone's sound level. Click the "Bubble" on the sound bar and drag it toward the right to raise the level and try tapping the top of the display again.