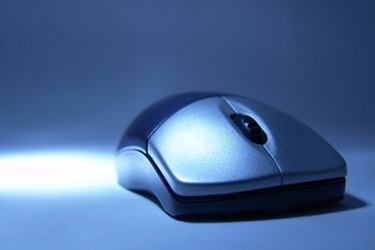 Dell wireless mice allow users to control the onscreen cursor without having to physically connect the mouse to the computer. This allows USB or serial ports to remain available and also reduces the number of wires around the computer. Dell mice connect either via a wireless USB receiver or by pairing with a Bluetooth-enabled computer. After a period of normal use or due to computer resets, the onscreen cursor may cease to respond to movement of the mouse.
Step 1
Check the wireless connection. For Dell mice with USB receivers, proceed to Step 2. For Dell mice with Bluetooth connections, proceed to Step 3.
Step 2
Make sure that the USB receiver is turned on. Some Dell models have a small button or switch on the receiver. Push this and wait for the small light to come on. If there is no light, remove the receiver and try plugging it into another USB port.
Step 3
Check the Bluetooth connectivity. Locate the Bluetooth icon (see Resources) in the lower right of the Windows desktop. You may need to click the small arrow to expose all of the icons.
Step 4
Right-click the Bluetooth logo and verify that the connection is on. If not, select "Make Discoverable" or "Turn on Bluetooth." Wait for the icon to light up. Press the small connection button on the underside of the mouse to sync the device.
Step 5
Turn the mouse over and remove the battery compartment. Replace the batteries with fresh batteries. Most Dell wireless mice take AA batteries.
Step 6
Verify that the mouse is positioned on a flat surface that is not reflective. You can place a standard piece of white printer paper under the mouse to prevent reflective surfaces from confusing the optics of the mouse.
Step 7
Press the small connection button on the underside of the mouse to ensure the mouse is on and sending and receiving signals from the USB receiver or Bluetooth. If you've reset the receiver, computer or Bluetooth connection, you may need to push this button once more to sync the device.