A wireless mouse offers convenience without a cumbersome cord cluttering up your workspace. With the popularity of notebook and netbook computers on the rise, many computer users prefer a wireless mouse instead of the touchpad that comes standard with mobile computers. A standard mouse is powered by the computer, but a wireless mouse takes a battery, and access to the battery is often disguised by the sleek compact style of the mouse.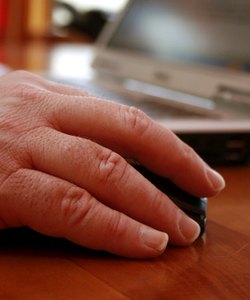 Step
Press the button on the rear of the mouse, where the heel of your hand rests. The palm pad should pop up. If it does not pop up, press and hold the button and pull up on the palm pad.
Step
Remove the palm pad to view the battery compartment.
Step
Remove the old battery and replace with a new one.
Step
Place the palm pad back on the mouse and press down until it clicks into place.
Step
Turn the mouse upside down to view the underside of the mouse. Locate the small button labeled "Connect." Using a pen, press the "Connect" button on the mouse, then press the "Connect" button on the receiver. Press the "Connect" button on the mouse to connect and sync the mouse to the receiver.